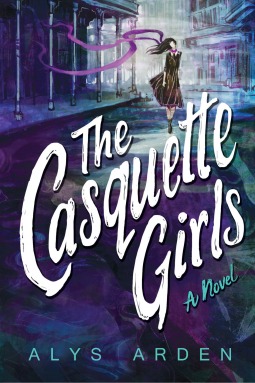 Book Rate: ★★★★☆ (4/5)
Review:
First thing I did after finishing this books was checking goodreads to see if there would be a sequel. Guess what? There is! The only thing we have so far is the title (The Romeo Catchers – which sounds very interesting) but I'm excited anyway!
Reading The Casquette Girls was such an immersive experience! I had never read a story that takes place in New Orleans but I think this was the best one to start with: I fell in love with the city through Alys Arden's words. Everything seemed so real and hypnotizing, The Casquette Girls truly transmits the reader the essence of this magical and oh-so-full-of-life city!
With some unexpected twist and turns the plot was very gripping, as were the characters. Although there are a few details I think could've been more worked on… The love triangle (beware, there's a love triangle guys!) was "comme ci, comme ça", never during my reading experience did I feel even slightly sure about any of Adele's choices… And Emilio's plot twist would've contributed a lot more to the story if it had been darker. But I can see a reason for it not be, since there's a sequel coming out and there's lots of angles that can be worked on about this character…
All in all, this was pretty intense. If you're ever in the mood for a Halloween-ish read or even just a good book to escape "real life" for a bit: this is your guy! Or book… I don't really know how to adapt this expression, ups 😉
The Casquette Girls brings New Orleans and Paris to you in just 560 pages!
Detailed Rating:
Plot ★★★★☆
Characters ★★★☆☆
Writing ★★★★☆
Pacing ★★★★☆
Cover ★★★☆☆
Synopsis (from goodreads):
Seven girls tied by time.
Five powers that bind.
One curse to lock the horror away.
One attic to keep the monsters at bay.
After the storm of the century rips apart New Orleans, sixteen-year-old Adele Le Moyne wants nothing more than her now silent city to return to normal. But with home resembling a war zone, a parish-wide curfew, and mysterious new faces lurking in the abandoned French Quarter, normal needs a new definition.
As the city murder rate soars, Adele finds herself tangled in a web of magic that weaves back to her own ancestors. Caught in a hurricane of myths and monsters, who can she trust when everyone has a secret and keeping them can mean life or death? Unless . . . you're immortal.
Publisher: Skyscape
Date of Publication:  November 17th 2015
Genre: Young Adult, Fantasy
Page Count: 565
Source: I was approved by the publisher on Netgalley to receive a copy of this book in exchange for an honest review.